There's a lot to do and see in the Big Apple, it's a city with countless plans to have fun or places to go and the only way to keep your memory intact your visit to New York City is with a photo, that's why we are going to share a list of 10 places in the Big Apple where you must take a picture, locations totally different from each other, that really have in common is that they are in New York.
¡Let's begin!
Chelsea
The Chelsea neighborhood is the perfect place to show the streets of New York City, from the top of High Line Park, you can capture the symmetry of the New York streets which have become in time a hallmark of New York City. So set up your camera on your New York City tour and go straight to High Line Park if you want to see the Big Apple's urban.
West Village
There's no better place to get lost in New York City than the West Village, its beautiful streets are an invitation to go aimlessly. This renowned neighborhood of the Big Apple manages to capture the essence of the city, a sample of it are its iconic Townhouse, the brick houses with their stairs at the entrance are undoubtedly a very beautiful postcard to show the charm of the City That Never Sleeps.
East Village
The diversity of East Village is impressive, its pubs, nightclubs and alternative stores make this area of the city a perfect place to take a picture and take a great souvenir of New York City. In East Village you can stop at any corner of the neighborhood and capture the everyday life of this fantastic Big Apple neighborhood.
Bushwick
Through its long shopping streets and busy streets you will find one of the most historic neighborhoods of New York City. Bushwick is a vibrant part of the city where you'll walk in front of colorful buildings that show all the overwhelming attitude of the Big Apple. This neighborhood retains the defiant, anti-establishment air of the 1990s, a decade in which New York City underwent great change thanks to its social activism.
NoLita
Nolita is a neighborhood you cannot miss on your tour of New York, one of the coolest neighborhoods in the Big Apple where you will find a lot of emblematic places to photograph. Mulberry St., Prince St. and Elizabeth St. are some of the streets we recommend you visit, they are great, they are full of life, color, places that will surely go directly to your Instagram. NoLita is full of Street Art, so make time to take pictures of most of the graffiti you find there.
SOHO
SOHO is considered the most photographed place in New York City and possibly is, as this area has a charm of its own that is almost an obligation to take hundreds of photos and capture its beauty in one image. SOHO has a special air, that's why you should take advantage of your visit to New York and go to this area of the city with your best outfit and take a cover photo of the magazine. Among the great attractions you can find in the SOHO are its buildings, large structures known as the Cast-Iron and are an emblem of the development of the city in the decade of the 70´s.
DUMBO
The bohemian essence of DUMBO makes this area of the city very attractive to New Yorkers and tourists. This neighborhood where you will constantly see people walking around with a book in hand is one of the artistic areas of the city, filled with art galleries, bookstores and independent music stores. Among the most famous places to visit and take a picture in DUMBO is the popular street overlooking the Manhattan Bridge, where you will always find someone taking a picture. DUMBO is a neighborhood like no other, so don't hesitate to visit it, walk its streets and capture the beauty of its rebuilt buildings.
Times Square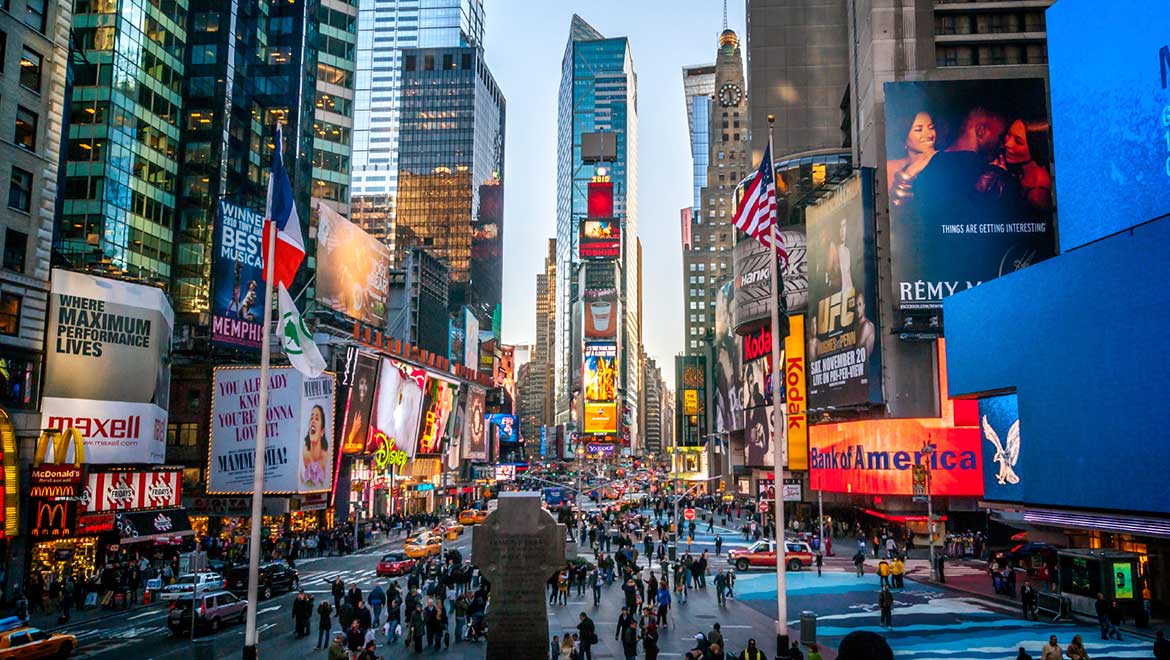 The Great Boulevard of the Big Apple is a place that no matter how many times you walk through it will always surprise you. Times Square is the heart of Manhattan, where it is evident why New York is recognized as the City That Never Sleeps, is that this area of giant luminous signs never goes out. That's why every time you are in Times Square, you will have to take a picture, because there you will always capture a great image of the city.
Tribeca
Undoubtedly this neighborhood is fashionable in New York, every day thousands of tourists walk the streets of Tribeca in search of some celebrity, because it is in this area of the Big Apple where the Tribeca Film Festival takes place, so it is usual to see one actor or another having a coffee in a coffee shop in the area. Although Tribeca is one of the most booming neighborhoods in recent times, this area of the city still retains its vintage air that blends the modern and the old to perfection, making this neighborhood a place to photograph New York City.
Williamsburg
Each corner of Williamsburg offers you an impacting cultural diversity, in this area of the city cohabit people with different beliefs and lifestyles. This extraordinary neighborhood of the Big Apple, always at the forefront, has an exceptional artistic movement that traps its visitors and makes them return to Williamsburg on more than one occasion. Take advantage of your New York tour to go directly to this neighborhood to capture the artistic atmosphere of the city.