If you're planning your visit to New York City and want to explore and go beyond Midtown, the busiest area of the Big Apple, then you'll find a selection of New York's most beautiful streets, a list that will guide you through different neighborhoods in the city and allow you to see some of the oldest streets in the Big Apple, the iconic brownstones and townhouses, houses that remind you of the origins of New York City.
So, get on board with us and discover the most beautiful streets of New York City… Let's get started!
Sylvan Terrace (Washington Heights)
Sylvan Terrace is one of those New York streets you will never forget in your life, it is located in the Washington Heights neighborhood in northern Manhattan, in this street you can see some of the oldest houses in the Big Apple.
In addition to seeing the houses, all made of wood and built in 1882, you will see the cobblestone floor, its staircases also built of wood and its iconic facades beige with green.
This street also leads visitors to the Morris-Jumel mansion, another of New York City's hidden gems. Going to Sylvan Terrace is like travelling back in time, so much so that this street has been used to film some scenes from the famous Boardwalk Empire series.
Stone Street (Financial District)
Among the big skyscrapers of the Big Apple you will also find small streets with a particular charm, this happens right in the Financial District of Manhattan where Stone Street is located, one of the most beautiful streets in New York City.
Stone Street is one of the oldest streets in the city, it is a pedestrian street which is surrounded by shops, pubs, bars and restaurants. A detail of this street is that as soon as you start to walk it you forget that you are walking through the Financial District.
This street is usually visited by New Yorkers who are looking for a quiet place to have a beer after a day's work. Stone Street is a very quiet place, you can breathe a very peaceful atmosphere, and its location is perfect because you will not leave the most popular attractions of the city as the Empire State, Times Square among many others.
Doyers Street (Chinatown)
Chinatown is much more than a shopping area of New York City, there among restaurants, stores and many other businesses, you will find Doyers Street, one of the most vibrant streets you can walk in the Big Apple.
For some time this street did not enjoy a good reputation, there were many places where people went to smoke opium, it was also a very violent place where it was usual to see street fights, but all that we told you was in the past, Doyers Street overcame those bad times and is now a beautiful street, where is located the famous restaurant Nom Wah Tea Parlor and some of the best nightclubs in New York City.
Another great attraction of this street is its colorful facades which allow you to experience from close up the oriental culture. Don't hesitate to include Doyers Street in your list of places to visit in New York City.
Staple Street (TriBeCa)
Leaving the streets of TriBeCa to one side on your New York tour is a big mistake, that's why today we recommend you to walk along Staple Street, a street that has a very beautiful architecture, which will remind you of the beginnings of New York City.
At first this street can go unnoticed, but once you get into it you realize that it is one of those places in the Big Apple that you can never get out of your mind, this street will fall in love with you from beginning to end, we recommend you to travel from Harrison St.
This street, although it seems to be abandoned, is one of the most expensive areas of the city, its fire escapes and its bridge that connects one building to another make Staple Street a very picturesque place. In addition to this street, try to travel TriBeCa completely, this is one of the most beautiful areas of New York City.
Grove Street y Grove Court (West Village)
Another neighborhood you should visit is West Village, because this area of the city, besides being one of the most emblematic places in New York, has some of the most beautiful streets in the city.
In West Village you'll find Grove Street, a beautiful place and home to Grove Court, a courtyard where you can appreciate the red brick houses that are a symbol of New York architecture. This place looks like it came out of a Wes Anderson movie.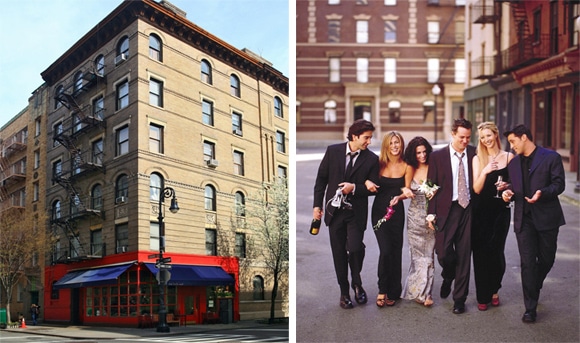 In addition to its beautiful houses, this street is also very popular with tourists because right on the corner of Grove Street with Bedford Street is the apartment where the Friends series was filmed. As we told you, because of the beautiful architecture of this place is very common in this area of the city to film movies or TV Series.
Now that you know which are the most beautiful streets in New York, tell us which one you're going to visit first.